Gift Shop – Made by Melissa
Small hand forged items are forged with love and hand made to order. Hearts, nails, bottle openers, pokers and toasting forks are usually in stock and you can view my sculptural pieces by appointment.
Use the Contact Me form to order direct - let me know the size and colour you would like and I will email you back for payment.
Alternatively buy through my Etsy Gift Shop - click on this link: MelissaColeGiftShop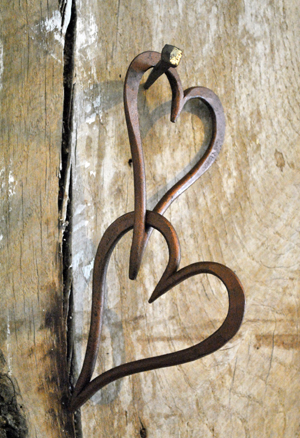 Fire-welded & forged from steel bar, each heart is free moving but linked to the other - you can't pull them apart! They are waxed to finish and come in copper, gold, silver, antique bronze (green), new bronze (brassy gold), clear and black wax.
Fabulous Valentines, Anniversary, Birthday, Christmas or Wedding gift.
Wedding Anniversary Year Celebrations:
Iron - 6th Year (US)
Copper - 9th Year (UK) 7th Years (US)
Bronze - 8th Year (US)
Tin - 10th Year (UK & US)
Steel - 11th Year (US)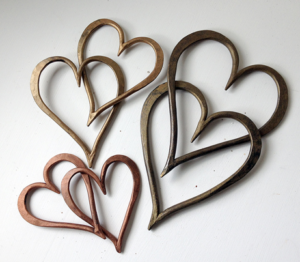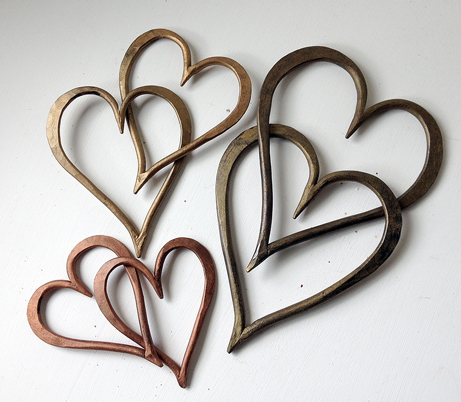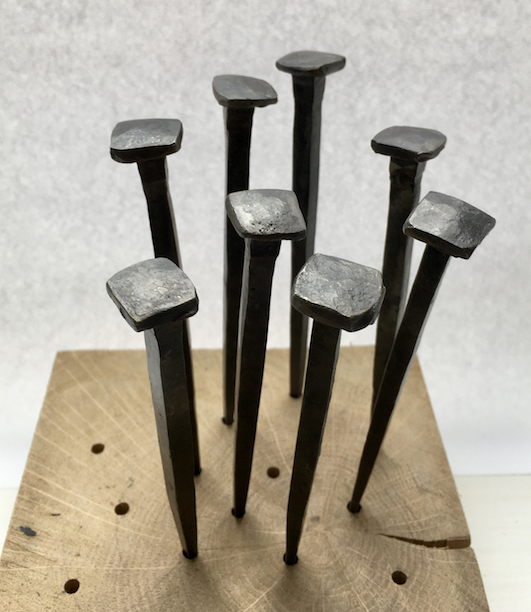 Price List:
Pairs of linked hearts come in different sizes:
Small: each heart is 8 x 10cm (3 3/4" x 4") £45.00
Medium: each heart is 10 cm x 13 cm (4" x 5") £46.00
Large: each heart is 14 cm x 18 cm (5 1/2" x 7") £48.00
'Cloud Openers'  Bottle openers 16 x 4 cm (6 1/2" x 1 1/2")  £42.00
Extra Large Hand Forged Nails 11 - 13cm (4 3/4" - 5") £ 10.00
Price includes free UK delivery per item.
Sizes are approximate as each item is hand made and unique!
Please ask for custom sizes & prices.
I ship to worldwide - please ask for a quote!
They are best hung up indoors; outside the wax finish will breakdown over time and start to rust.
Buy a GIFT VOUCHER for the purchase of an item from my gallery or a commissioned piece!

To place an order - please call or email me:
Small items are wrapped and sent first class post to the address given. P + P inc. is for UK addresses.
Please allow a minimum of 4 days from order for delivery. An estimated delivery date will be given on placing your order.
Payment can be made by BACS or Paypal; items will be posted once payment has cleared.
Multiple orders will need to have the postage quoted for and delivery date agreed - Orders over £50.00 will have a signed for delivery.
Please bear in mind that these small items are lovingly hand made to order!
Blacksmithing and Creative Metal Work Courses
One-day Introduction to Blacksmithing courses in the Pewsey Vale, near Marlborough, Wiltshire where you can learn to work the forge using traditional blacksmithing techniques to create your own forged metal sculpture or functional object for the house or garden.
Only two people on each one-day course you will learn to shape hot metal using a traditional coal forge, anvil, hammer and hand tools.
You will start by forging a simple 'S' shaped hook following expert tuition which covers basic forging; drawing down a point, scrolling, using the anvil and managing your fire.
The rest of the day is spent making a piece to your own design or, following Melissa's guidance, a set piece.
These courses are suitable for all abilities.
Please note; this is not a knife or blademaking course!
There are a limited number of course days available through the year, October to May.  Usually on Friday - not weekends.  Please note that I fit the courses in between commissioned work which is my main work.
Only £150 per person (an extra materials charge may apply if you make something big!!)  Gift Vouchers for coure days are also available.
All protective equipment and tools will be provided - you will need to bring lunch and ideas for what you would like to make!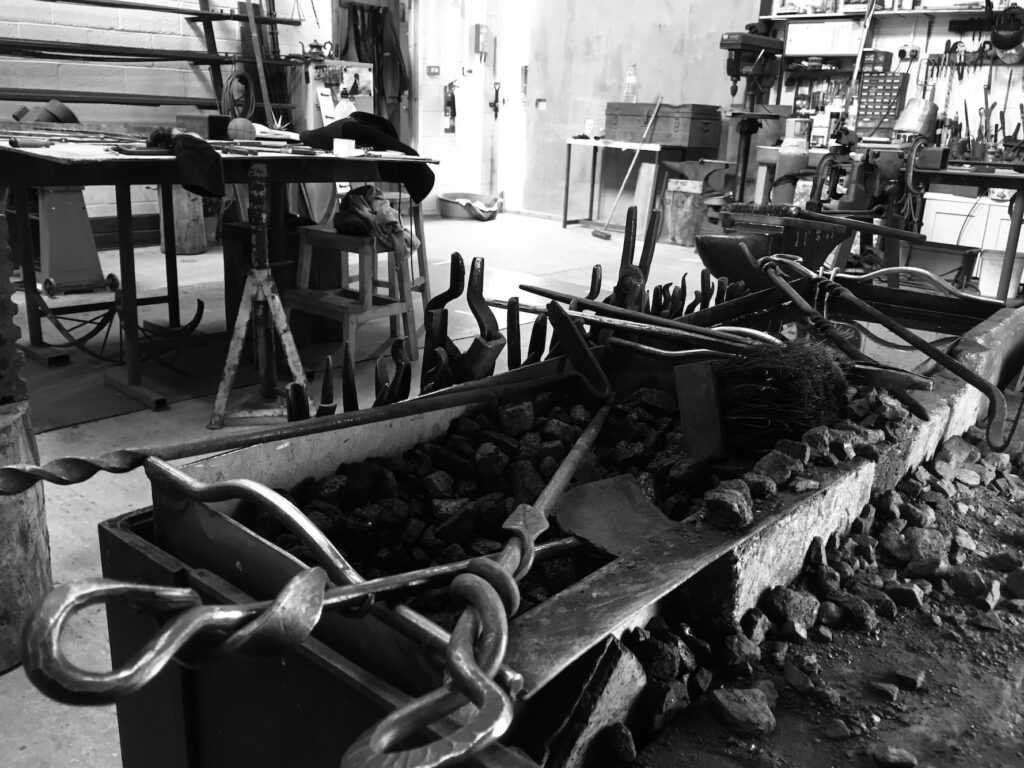 Course Dates 2020 – Due to Covid-19 courses hopefully will resume in September 2020. Please be assured that any Gift Vouchers will be valid for a further 6 months and that course days will resume as soon as possible.